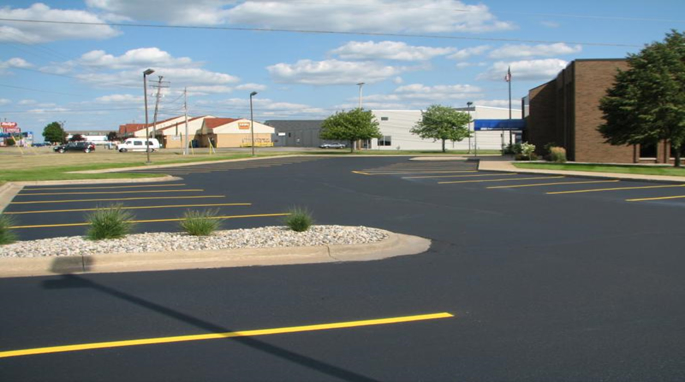 Wolf River Seal Coating is a trusted name throughout the East Central Wisconsin area for Quality Asphalt Seal Coating, Crack Filling, Asphalt Patching and Parking Lot Asphalt Striping. Our focus always remains the same; Maintain quality asphalt surfaces.
We offer affordable residential & commercial crack filling, asphalt patching, asphalt seal coating, and striping in Appleton WI, Neenah WI, Menasha WI, Oshkosh WI, Green Bay WI, Waupaca WI, Shawano WI, New London WI, Greenville WI, Hortonville WI, Shiocton WI, Black Creek WI, Seymour WI, Bear Creek WI, Clintonville WI, and all the surrounding Fox River Valley WI Area.
"We strive for excellence, and treat every job as if it were our own"
Kyle Boelter | President / Wolf River Seal Coating
Driveway asphalt/blacktop condition has a significant impact on residential property value & appearance, same as parking lot asphalt/blacktop has for first impressions, and therefore, income potential for a commercial property. Keeping your parking lot or driveway asphalt looking nice is vital to help make positive impressions on customers or visitors, and will also extend the life of your blacktop driveway or asphalt parking lot area. Like your roof or carpet, blacktop has a lifespan. Even if you don't know how old your asphalt driveway or parking lot is, one thing is clear; You want your blacktop looking it's best, and to last as long as possible. If you see cracks or other clues that your asphalt driveway / parking lot is ready for crack filling, & need the asphalt resealed, have Wolf River Seal Coating take a look at it. Regular crack filling, and sealcoating can more than double the lifespan of asphalt!
We offer blacktop/asphalt seal coating, crack filling, and parking lot striping services for Residential Driveways, Commercial Parking Lots and other misc Asphalt/Blacktop areas.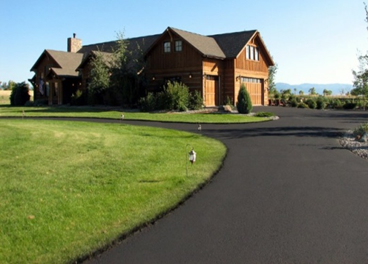 Commonly Asked Questions
Q. Can I get an estimate over the phone?
A. Absolutely! If you know the size or dimensions of your project, we can often give you a fairly accurate or possibly exact estimate very quickly. Actually, we prefer to do this if possible, so you know whether you would like to proceed and have us meet with you to give you an exact bid if needed.
Q. What if I don't know the size, and I am unable to measure it?
A. We would be happy to meet with you, or just stop by and measure your project to give you a free quote; Just give us a call!
Q. Why should I hire Wolf River Seal Coating to do my seal coating?
A. Wolf River Seal Coating uses only the best materials and application techniques, and we want our customers happy with a quality job that will look great, and help your asphalt last as long as possible.
Q. Will I get the lowest price from Wolf River Seal Coating?
A. Possibly, but not always; what you will get is a fair price on a quality job that was given the extra thought and effort to make it look better, and last longer.
We supply top quality materials and superior workmanship backed by hundreds of quality completed projects.
Wolf River Seal Coating Contractor, Proudly Serving the following Wisconsin Counties and Cities:
BROWN COUNTY WISCONSIN Allouez WI 54301 Ashwaubenon WI 54304 54313 Bellevue WI 54311 De Pere WI 54115 Denmark WI 54208 Green Bay WI 54229 54301 Green Bay WI 54302 54303 Green Bay WI 54304 54305 Green Bay WI 54306 54307 Green Bay WI 54308 54311 Green Bay WI 54313 54324 54344 Greenleaf WI 54126 Hobart WI 54115 54155 54313 Howard WI 54303 54313 New Franken WI 54229 Oneida WI 54155 Pulaski WI 54162 Suamico WI 54173 Wrightstown WI 54180
CALUMET COUNTY WISCONSIN Brillion WI 54110 Chilton WI 53014 Forest Junction WI 54123 Hilbert WI 54129 New Holstein WI 53061 53062 Potter WI 54160 Salvatorian Center WI 53062 Sherwood WI 54169 Stockbridge WI 53088
OUTAGAMIE COUNTY WISCONSIN Appleton WI 54911 54912 Appleton WI54913 54914 Appleton WI 54915 Appleton WI 54919 Bear Creek WI 54922 Black Creek WI 54106 Combined Locks WI 54113 Dale WI 54931 Freedom WI 54130 54131 54165 Grand Chute WI 54911 54912 54913 54914 54915 Greenville WI 54942 Hortonville WI 54944 Kaukauna WI 54130 54131 Kimberly WI 54136 Little Chute WI 54140 54911 Medina WI 54944 Nichols WI 54152 Seymour WI 54165 Shiocton WI 54170
SHAWANO COUNTY WISCONSIN Birnamwood WI 54414 Bonduel WI 54107 54182 Bowler WI 54416 Caroline WI 54928 Cecil WI 54111 Green Valley WI 54127 Gresham WI 54128 Krakow WI 54137 Leopolis WI 54948 Mattoon WI 54450 Navarino WI 54107 Shawano WI 54166 Tigerton WI 54486 Tilleda WI 54978 Wittenberg WI 54499 Zachow WI 54182
WAUPACA COUNTY WISCONSIN Big Falls WI 54926 Clintonville WI 54929 Embarrass WI 54933 Fremont WI 54940 Iola WI 54945 54990 King WI 54946 Manawa WI 54949 Marion WI 54950 New London WI 54961 Ogdensburg WI 54962 Readfield WI 54969 Royalton WI 54961 Scandinavia WI 54977 Waupaca WI 54981 Weyauwega WI 54983
WAUSHARA COUNTY WISCONSIN Coloma WI 54930 Hancock WI 54943 Pine River WI 54965 Plainfield WI 54966 Poy Sippi WI 54967 Redgranite WI 54970 Saxeville WI 54976 Wautoma WI 54982 Wild Rose WI 54984
WINNEBAGO COUNTY WISCONSIN Butte des Morts WI 54927 Eureka WI 54934 Larsen WI 54947 Menasha WI 54952 Neenah WI 54956 Neenah WI 54957 Omro WI 54963 Oshkosh WI 54901 54902 Oshkosh WI 54903 54904 Oshkosh WI 54906 Pickett WI 54964 Waukau WI 54980 Winnebago WI 54985 Winneconne WI 54986
Wolf River Seal Coating
Kyle Boelter (920)858-3717